Water Features
Enhance your Poolside Experience with Artistic Custom Designed Fountains & Waterfalls
Imagine a tranquil pool waterfall or an elegant swimming pool fountain as part of your outdoor sanctuary in Dallas and Plano. Let Artesian Custom Pools add excitement and the sound of nature with water features that bring movement, interest and drama to your pool area. Enchanting pool fountains, pool waterfalls, bubblers, alluring pool statuaries and impressive laminar water jets make evening entertaining even more special. For quiet, relaxing mornings outside, water features lend the sound of silence, helping to drown out unwanted noise and adding a richness that lets you enjoy your pool without stepping into the water itself. As a true custom pool builder, Artesian Custom Pools takes all aspects of your environment into consideration so we can handpick the perfect water features for your outdoor enjoyment. The creative possibilities are endless, and our Artesian Custom Pools designer looks forward to exploring these other water feature ideas with you: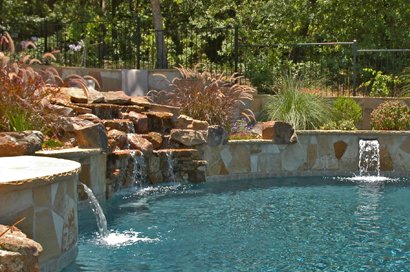 Natural Stone Waterfalls
Waterfalls make a classic addition to any pool style and are always popular with children. Our custom-designed pool waterfalls offer endless design options – from natural rock waterfalls to flagstone waterfalls and spa spillovers.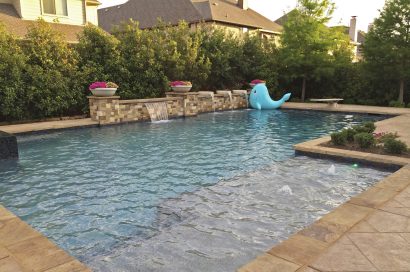 Tanning Ledge or Baja Bench
Tanning Ledge (baja bench) is a flat ledge typically located at the entrance of the pool. This tanning ledge is the perfect location for a lounge chair or the sun-worshipper who wants to avoid getting overheated from the sun or fully submerged while enjoying the pool.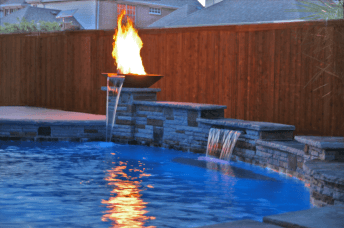 Fire Bowls
Fire Bowls are water features with a split personality! During the day, they are unassuming, but are a great focal point of your swimming pool. At night, they come alive as their flamescreate a beautiful and dramatic ambiance.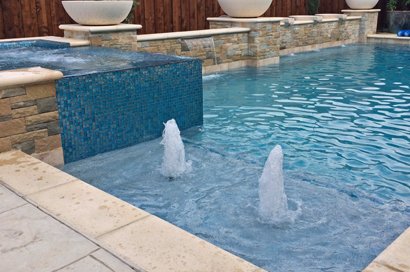 Bubblers
Bubblers are fun water features that spout up from shallow pool surfaces like steps and beach entries. When combined with the right aesthetic lighting, they can create striking centerpieces to a variety of swimming pool styles. When placed on a beach entry or tanning deck, they create a fun splash pad for small children and big kids alike.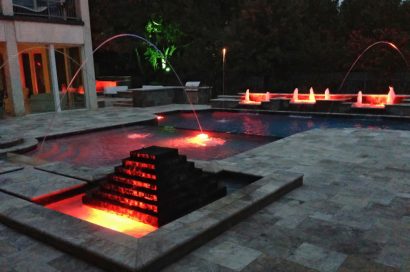 Deck Jets & Laminars
Deck Jets use air to shoot streams of water from the deck into the pool. Laminars arc across the swimming pool for an elegant and fun addition to your swimming pool. They make for particularly fascinating water features at night when backlit with LED lights. Your kids will love chasing the glowing water.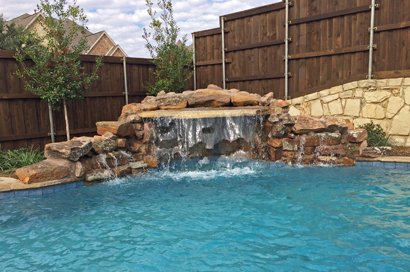 Cozy Grottos
Create a romantic getaway or a place for pirate's treasure in your own pool. A grotto uses rock & boulders (natural or man-made) to create a small cave where water runs off, giving your pool an exotic, tropical element.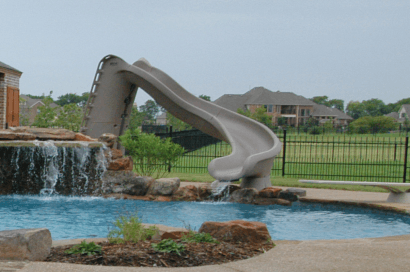 Pool Slides
Gone are the days of the unattractive plastic tube slide. Our custom-built water slides are designed to accentuate your overall pool design while offering hours of pool fun. Each water slide is crafted to fit your pool's shape with colors and materials that complement your coping and pool deck.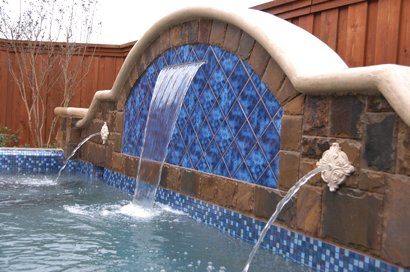 Sheer descents or Stone Scuppers
A sheer descent or scupper is a straight, linear water feature that drops a clean, sheet of water into your pool. These water features create a soothing water sound with an elegant, majestic look.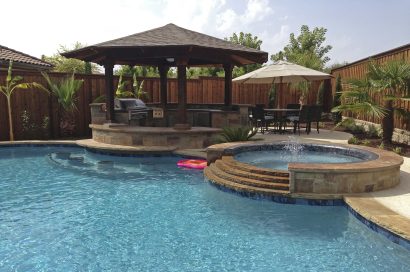 Swim-up Bars
Swim-up bars are a great way to bring the fun of having a cocktail or food served to you in the pool because if you don't have to get out why would you? These areas feature built-in bar stools made of stone, tile or precast finishes, and a bar that can be adorned in glass tile or beads. The options are endless.