Pool Construction Process
Building Custom Pools & Spas in Dallas, Plano and Across North Texas
What You Can Expect During the Pool Construction Process
Artesian Custom Pools is dedicated to designing and building a custom pool you can enjoy for years to come. From the first time we're in contact with you about your custom pool until your first big splash in it, we want your experience with us to be just that – custom.
We aren't a pool contractor who's in, out and gone in a flash. There are many moving parts during the construction process, and we're dedicated to ensuring you know what to expect and how we go from concept to construction of your custom inground pool. While things can change throughout the process, there is always one constant – Artesian Custom Pools will build your pool skillfully, methodically and with the greatest level of professionalism. We'll construct your backyard space as if it were our own, and we'll stay within the agreed-upon budget so the only surprise you'll have at the end of the project is that it was even better than you imagined.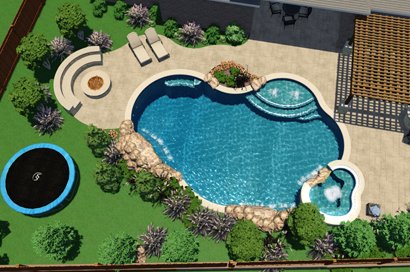 Pool Design and Prep
During this process, we will visit your home, measure your yard and learn your wants and needs for a beautifully-designed pool, spa and outdoor living area. Once we put your ideas together with our experience and prepare a drawing of your property showing you the best location for each of these elements, we'll give you a written estimate. And then the excitement begins.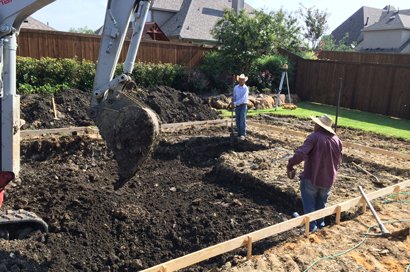 Stakeout
Prior to breaking ground, we will acquire the necessary permits from your community and then stake out your new pool based on the approved design.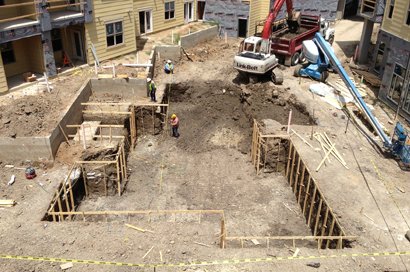 Excavation
One of our expert contractors will use the latest equipment to excavate your backyard and dig the site for your new pool.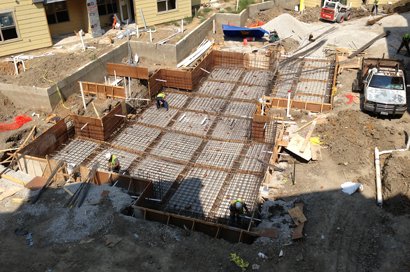 Steel
Steel reinforcing will be installed in a cross-pattern style on the sides and bottom of your pool. The steel bars all connect to a four bar-box beam on the top, which adds strength to your pool.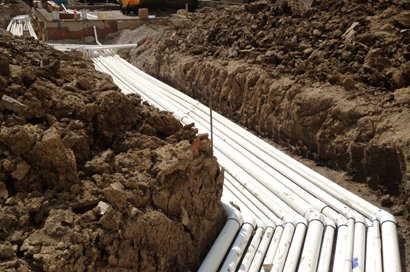 Plumbing ***
We will install upgraded plumbing and fixtures that are designed to efficiently keep your pool clean and purified – and your energy costs to a minimum.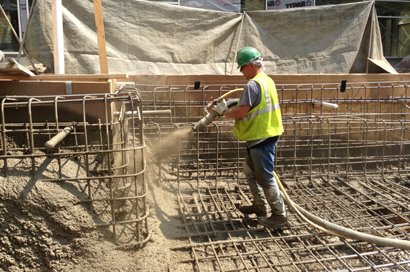 Shotcrete
Shotcrete is applied under high pressure to encapsulate the steel and form the structure of your pool.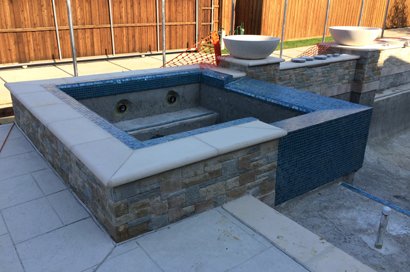 Tile and Coping
We carefully place and expertly level your chosen tile to the inside of the pool, then coping is installed around the perimeter.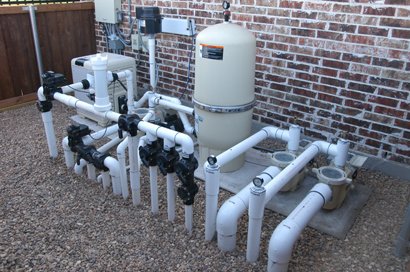 Electrical
Certified, licensed electricians connect your property's main electric service to your pool equipment, lighting and outdoor appliances.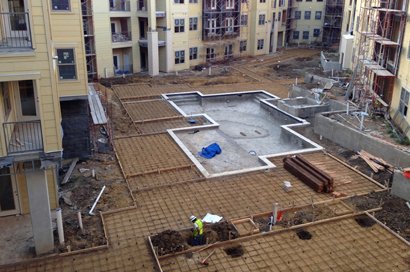 Deck
You can choose from a large selection of deck surfaces and color to give that perfect finish to suit your surroundings.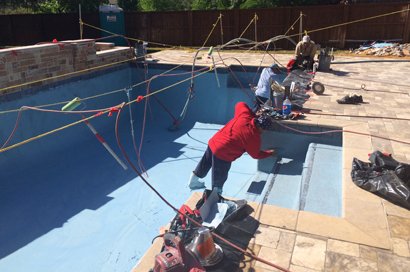 Plaster or Other Interior Finish
A hand-troweled interior finish, usually a high-grade pebble or quartz product, is the final step in the construction of your pool prior to filling it up with water.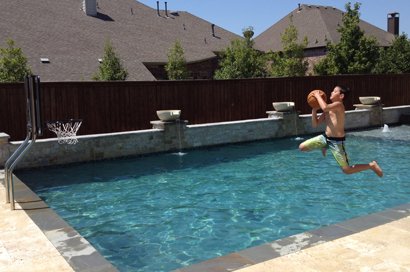 Start Up and Swim
After the pool is filled with water, your project manager will personally train you about the operation and maintenance of your new pool.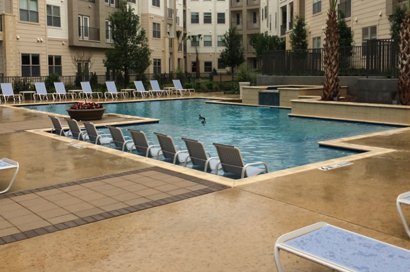 Enjoyment
You and your family are now set for years of fun and relaxation in your own backyard paradise.
*** Hydraulics
Why are hydraulics important in a swimming pool? Doesn't everyone use the right pump and filter combination? Doesn't everyone properly size the plumbing for the pool equipment?
The answer to the above questions is no. There are a lot of builders in the Metroplex that have no clue as to why you need a 2-hp pump instead of a 1-hp pump. They do not know why a 36 sq. ft. DE filter will not work with a 2-hp pump. Why? Because they do not know hydraulics. Hydraulics is a very important component of your swimming pool investment. If you have 1-1/2-inch plumbing, you cannot use today's 2-hp to 3-hp pumps efficiently without the risk of cavitation or reducing the life of your pump. Cavitation means that the pump is not receiving the water it needs to do its job thus causing the pump to be "starved" of water.
A simple test in suction
If you take a drink using a standard straw, you will get pretty good volume of liquid. Change it to a smaller straw, and you will find it is harder to pull the same amount of volume. Yes, you got the drink, but at a reduced volume. Use a larger straw, and you will get more volume.
This same principle can be applied to swimming pool equipment sizing and plumbing. The longer the distance between the pool and pool equipment, the larger the pump size and/or plumbing.
A simple test in pressure
Take a garden hose and water the lawn. Add a second garden hose in series and you will find you are not getting the same pressure.
Once again the same principal can be applied to swimming pool hydraulics.
What does all this mean?
If the pool equipment and plumbing are not properly sized, the pump will work harder (and sound louder), and the pump will have to work longer to filter, sanitize, clean and heat the pool water.
Your pool is harder to keep the water balanced, and it looks dirtier for longer periods of time.
Pool equipment repair costs are higher and more frequent as damage to filter elements, pump motors and the like increase in frequency. More chemicals are needed to treat the water because it is not being properly dispersed by the pool equipment.
How do I know what the right size plumbing and the right sized equipment is needed?
Just ask. If a company cannot tell you how to come up with the calculations for your pool design, then they simply don't know and are not qualified to build a custom pool. You need to know what is right for your pool. It is important that your pool filtration will "turn-over" at least two times a day to conform to residential building standards. At Artesian Custom Pools, we like to plumb a safer and more energy-efficient pool. The velocity limit in the plumbing at the outlets is 6 feet-per-second by code (ANSI/APSP-7). We recommend that the maximum design velocity on the suction side of the pump be limited to 4.5 feet-per-second and maximum velocity on the discharge side of any pump shall be limited to 6.5 feet-per-second.
Some builders will even say, "I'll put on whatever the next guy does!" Do you want to trust someone that follows or someone that leads the way?
The high water demands of water features, therapeutic spas and in-floor cleaners have changed the way pool equipment is sized. Some competitors actually install a pump too large for the filter and too small for the therapeutic spa.
Unfortunately, some customers think a pool is a pool is a pool. It's just a matter of getting the cheapest price. It's better to pay a little more than you expected for a well-built pool than pay a little less than you should have for a cheap pool.
What makes us better?
We understand the hydraulics that go into building a quality pool because we pay attention to flow rates, gallons per minute, turn-over rates, total dynamic head, chlorination methods, bather loads and your environment.