Outdoor Living
Custom Outdoor Living Spaces Enhancing the beauty and functionality of Backyard Patios & Outdoor Kitchens
There's no better area than Dallas or Frisco to entertain and relax with a custom outdoor living space designed by Artesian. Outdoor living spaces and fireplaces can be built alongside your custom pool or hot tub or as its own project, and we look forward to blending your personal lifestyle with exquisite features that make your area a favorite party zone or peaceful retreat.
An outdoor living space can also be as simple as a cozy grotto or intimate seating area for romantic evenings for two. Glittering firelight casts an ambient glow and transforms the entire feel of your swimming pool, hot tub and outdoor kitchen. Consider a stone or brick outdoor fireplace for a casual, woodsy air in Dallas or a hand-selected copper or brass fire bowl for a graceful, classy feel to your poolside gatherings. We can even breathe new life into homes with an existing outdoor patio fireplace, incorporating it into your new backyard theme.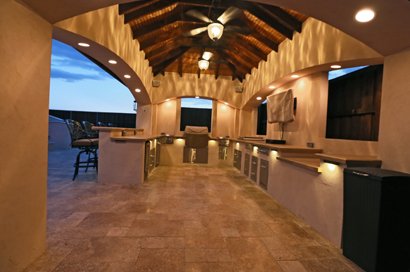 Outdoor Kitchens
There is nothing like the unmistakable flavor of food cooked on an outdoor grill. From built-in grills and pizza ovens to wine fridges and bar seating, the wealth of available options for outdoor kitchens makes cooking and dining outdoors fun. Not to mention how luxurious, weather-resistant materials like granite, travertine and stacked stone elevate the look of your pool and patio exponentially.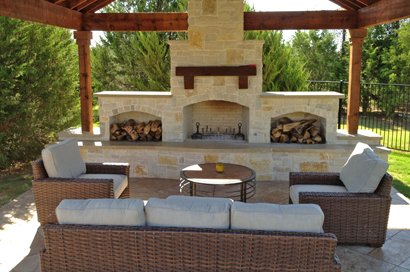 Outdoor Living Rooms
Extend the functionality of your backyard year round with a sheltered outdoor living room. The popular trend of taking the indoors out has become more fun than ever with exciting options like outdoor entertainment centers, cozy furnishings and upscale details like fine carpentry, stonework and tile.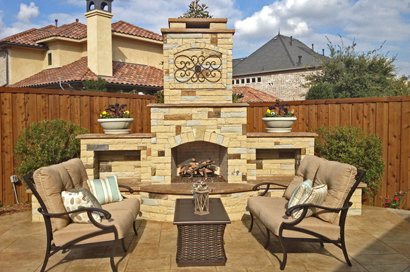 Outdoor Fireplaces and Fire Pits
What better way to enjoy the outdoors during the cooler months than gathered around an outdoor fireplace or fire pit with family or friends? Whether roasting hot dogs and marshmallows, singing campfire songs or simply curling up with a hot cider and a good book, the comforting glow of an open flame has an undeniable allure.
Patio Covers
Add more useable space to your home by roofing over a new or existing patio. In most cases, it is possible to seamlessly tie this addition into your home's existing architecture for instant shelter from the elements.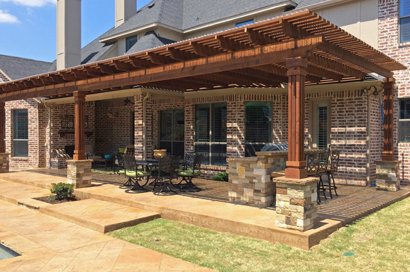 Pergolas, Gazebos and Arbors
If a covered structure separate from your home is what you have in mind, Artesian Custom Pools offers a wide range of fully customizable pergolas, gazebos and arbors to meet every need and taste.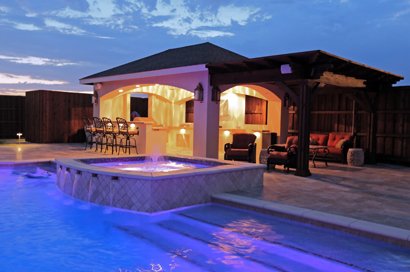 Landscaping and Accent Lighting
No outdoor environment is complete without the soothing green of nature. Let Artesian Custom Pools weave together all of the elements of your backyard with perfectly complementary landscaping and accent lighting strategically placed to highlight interesting details and create atmosphere.
Warning: Preparing sumptuous, earthy meals in the ultimate Dallas or Frisco outdoor kitchen may cause you to never cook indoors again! Relaxing mealtimes with family and friends in an extraordinary outdoor kitchen that accentuates your unique backyard theme creates memories that last a lifetime. We use only natural stone and the highest quality materials including custom cut granite, stainless steel appliances, and high-grade fixtures, hardware, and cabinetry that withstand the extreme Texas temperatures. Like everything else we build, there is nothing standard about the special touches we include in the outdoor kitchens; even the barbecue islands display Artesian's custom flair, as we inlay Italian glass tiles along the backsplash for added sparkle that make your guests take notice. Bon appetit!